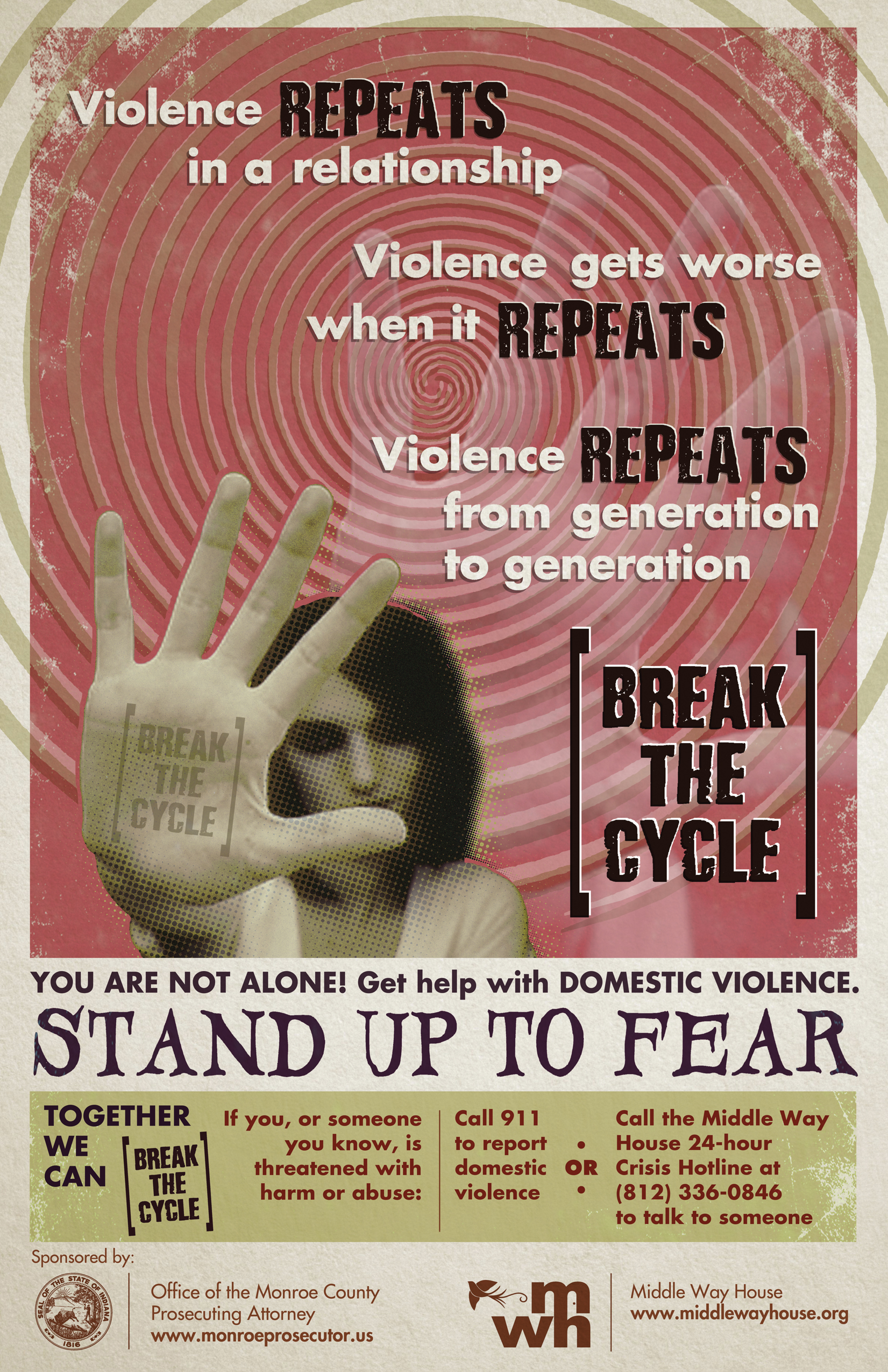 Stand Up To Fear! Report Domestic Violence
If you or someone you know is threatened with harm or abuse, call 911 for help.
The Monroe County Prosecutor's Office is working to end domestic violence in our community. Cases are handled by a Domestic Violence Unit that includes a deputy prosecutor who specializes in the prosecution of domestic violence, and a Victim Assistant who works exclusively with domestic violence cases to proactively address the unique issues faced by victims. Click here to get contact information for the Domestic Violence Unit.
New Resources and Improvements in the Prosecution of Domestic Violence Cases
Since 2007, the Prosecutor's Office has sought continuous improvements in the handling of domestic violence cases in Monroe County. The first step was to publicly release detailed monthly data on all domestic violence cases handled by our office. We also sought out opportunities to partner with community organizations to promote public education efforts aimed at preventing domestic violence. + read more…
The Prosecutor's Office currently assigns one full-time Deputy Prosecutor to exclusively handle domestic violence cases. Since 2008, the prosecutor's office has also dedicated a full-time Victim Assistant to working with victims of domestic violence. This specialized focus enables us to make early and consistent contact with victims, encourage their cooperation, and improve our ability to successfully prosecute domestic violence cases.At the suggestion of the Prosecutor's Office, in 2008 the Monroe County Board of Judges instituted a twenty-four hour "cooling off" period after a domestic battery arrest before a defendant may bond out of jail. This allows additional time for a victim to find a safe place, relocate children, obtain services, and also provides additional time to de-escalate a violent situation.
In 2008, the Board of Judges also consolidated all domestic violence cases before a single court. This provides more consistency and efficiency in the handling of domestic violence cases. It also enables the Judge to quickly respond to any violations of the defendant's conditions of release, or violations of a No Contact Order through continued harassment of the victim. At the same time, the Probation Department also dedicated two probation officers to supervising domestic violence defendants, improving their ability to promptly respond to violations.
In 2010, the Prosecutor's Office Latino Outreach Program produced a public education campaign on domestic violence directed at the local Spanish-speaking population involving both print and radio materials.
In 2011, the Prosecutor's Office partnered with the County Clerk's Office, the I.U. Maurer School of Law's Protective Order Project, the I.U. School of Social Work, and Middle Way House to create the Protective Order Assistance Partnership (POAP), a program to assist Monroe County residents seeking civil protective orders. The Prosecutor's Office also helped develop a model domestic violence personnel policy for county employees that was adopted by the Monroe County Commissioners.
In 2012 the Prosecutor's Office organized a broad-based Domestic Violence Study Committee to evaluate the current community response to domestic violence, identify any potential areas for improvement, and make recommendations for any additional resources or public education and prevention efforts.
In 2017 the Prosecutor's Office partnered with Middle Way House to promote a public education campaign to encourage victims of domestic violence, or bystanders who are aware that domestic violence is occurring, to come forward and get help. The "Break the Cycle" initiative encourages people to call 911 to report a domestic violence, or to call the Middle Way House 24-hour Crisis Hotline at (812) 336-0846 to talk to someone. Click here to see the poster.
Mandatory 24-Hour "Cooling Off" Period
Beginning in November of 2008, anyone arrested for domestic battery or battery in Monroe County can expect to spend at least 24 hours in custody before they may be released on bond. Learn more »
Protective Orders & No Contact Orders
Click here for information on Protective & No Contact Orders.
How can I help a friend or famly member who is being abused?
Click to expand
Don't be afraid to let him or her know that you are concerned for their safety.
Help your friend or family member recognize the abuse. Tell him or her you see what is going on and that you want to help. Help them recognize that what is happening is not "normal" and that they deserve a healthy, non-violent relationship.
Acknowledge that he or she is in a very difficult and scary situation.
Let your friend or family member know that the abuse is not their fault. Reassure him or her that they are not alone and that there is help and support out there.
Be supportive.
Listen to your friend or family member. Remember that it may be difficult for him or her to talk about the abuse. Let him or her know that you are available to help whenever they may need it. What they need most is someone who will believe and listen to them.
Be non-judgmental.
Respect your friend or family member's decisions. There are many reasons why victims stay in abusive relationships. He or she may leave and return to the relationship many times. Do not criticize his or her decisions or try to guilt them. He or she will need your support even more during those times.
Encourage him or her to participate in activities outside of the relationship with friends and family.
If he or she ends the relationship, continue to be supportive of them.
Even though the relationship was abusive, your friend or family member may still feel sad and lonely once it is over. He or she will need time to mourn the loss of the relationship and will especially need your support at that time.
Help him or her to develop a safety plan.
Visit our Safety Planning page for more information.
Encourage him or her to talk to people who can provide help and guidance.
Find a local domestic violence agency that provides counseling or support groups. Offer to go with him or her to talk to family and friends. If he or she has to go to the police, court, or a lawyer, offer to go along for moral support.
Remember that you cannot "rescue" him or her.
Although it is difficult to see someone you care about get hurt, ultimately the person getting hurt has to be the one to decide that they want to do something about it. It's important for you to support him or her and help them find a way to safety and peace.
Hotline: 24-hour National Domestic Violence Hotline at 1-800-799-SAFE (7233) or TTY 1-800-787-3224 – confidential hotline for victims and others concerned about helping a friend or family member who is a victim of domestic violence.
See the printable brochure in English and Spanish for Family and Friends of domestic violence victims.