What does dropout prevention have to do with criminal justice? A lot.
If you look at the criminal history of a serious repeat offender you will often find that it leads back to early problems such as truancy, educational failure, and dropping out of school. While a high school diploma does not automatically guarantee success in life, there is ample evidence that dropping out of school is associated with a wide range of problems including:
Social failure,
Substance abuse,
Low self-esteem,
Unwanted pregnancy,
Unemployment, low-paying jobs, poverty, and reliance on public assistance
Poor physical and/or mental health,
Delinquent behavior and/or violence,
Adult criminal behavior and/or incarceration.
The social costs of dropping out not only harm the individual student, but also impose costs on the community and undermine public safety. High school dropouts claim more in government-funded social services than graduates. Not surprisingly, communities with high rates of truancy are also likely to have corresponding rates of daytime criminal activity, property crimes and vandalism. However, dropout prevention programs are inexpensive relative to the costs imposed by these social problems.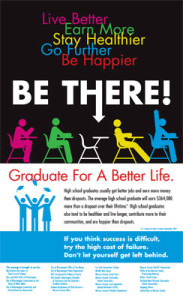 For Monroe County Prosecutor Chris Gaal, the best long-term investment in public safety is support for education – especially for at-risk youth. Since taking office in 2007, Gaal proposed the creation of a Truancy Court, organized the "Be There!" dropout prevention campaign to help students understand the many benefits of graduation, and worked with others to develop an active Dropout Prevention Coalition in our community. Thanks to these efforts, Monroe County made significant progress in improving its high school graduation rates. In 2007 all three local high schools were in the 80% graduation rate range. By 2013, all three high schools were above 90%.
Gaal continued to support dropout prevention by serving on the Chamber's Franklin Initiative Advisory Board which provides "Graduation Coaches" to each local high school to support youth at-risk of dropping out. Gaal has also served on the Foundation of Monroe County Community Schools board of directors to support the mission of strengthening our local public schools and enhancing educational opportunities for all students.
In 2012, the Monroe County Dropout Prevention Coalition and the College Success Coalition merged into High School Plus Coalition – "a community coalition helping students to grow, graduate, and pursue their goals." High School Plus brings partners together to develop a common understanding of the Monroe County dropout rate, identify and prevent problems that cause kids to drop out of school, and create solutions and resources to help students succeed in high school and beyond. Whether a student is college-bound or wants to directly enter the workforce, this group recognizes the necessity of a high school diploma plus a purposeful plan for the future.
Working together with a broad coalition of stakeholders in the community, the High School Plus Coalition developed "The Roadmap to Success." The Roadmap is an interactive website to help students navigate available resources and create a personal plan for future success. Designed with students, parents, and counselors in mind, this innovative tool helps guide career and school choices and contains up-to-date national and local resources. The Roadmap organizes information about workforce development programs, colleges and training programs, ways to save and pay for education after high school, and much more.
The Coalition is currently developing a Community Dashboard that highlights key indicators relating to academic outcomes and at-risk youth in Monroe County. It will serve as a community reporting mechanism so the Coalition and the community can measure progress and success. Follow this link to see the dashboard: www.highschoolpluscoalition.org/community-by-the-numbers.html