Media
Press Releases
"Monroe County receives statewide award – September 25, 2013
Karen Avery
(317) 829-3656
kavery@indianacounties.org
www.indianacounties.org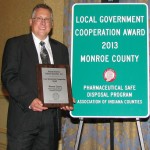 SWITZERLAND COUNTY (Sept. 25, 2013) — The Association of Indiana Counties (AIC) announced Wednesday that Monroe County received the 2013 Local Government Cooperation Award. The award recognized Monroe County's Pharmaceutical Safe Disposal Program.
The Monroe County Pharmaceutical Safe Disposal Program collects and properly disposes of unused, unwanted or expired pharmaceutical drugs and controlled substances. The program strives to reduce the risk of illegal diversion, drug abuse, overdose and environmental risks resulting from improper disposal.
Monroe County Prosecutor, Chris Gaal created a partnership among the Monroe County Sheriff's Department, the Monroe County Solid Waste Management District, IU Health Bloomington Hospital, the Monroe County Triad and the Prosecutor's Office to offer two secure collection boxes with accessibility around the clock. The program was created in 2011.
The program is unique in Indiana because it accepts controlled substances. Additionally, it offers public access to dispose of medications 365 days a year, 24 hours a day.
AIC presented the award during its Annual Conference, the state's largest gathering of county officials. The four-day conference included an array of workshops and breakout sessions designed specifically for county officeholders. Officials met in Switzerland County along with representatives from public agencies and private entities. Conference topics addressed a variety of issues concerning local governments, including: how federal health care reform affects counties, government administration, funding county services, and taking full advantage of road dollars.
The conference concluded Thursday. For more information about AIC or the Annual Conference, please contact Karen Avery at kavery@indianacounties.org
For a high resolution image, visit: http://www.indianacounties.org/egov/images/1380201906_50037.JPG. Pictured: Monroe County Prosecutor Chris Gaal.
For video, visit: http://www.youtube.com/watch?v=HFs9_CnViyk.
About the AIC: The Association of Indiana Counties, Inc. is a nonprofit organization established in 1957 for the betterment of county government. The various functions of the AIC include lobbying the Indiana General Assembly on behalf of counties, serving as liaison among counties, state and federal agencies as well as providing technical assistance and training to county officials and employees.

###
"New Pharmaceutical Disposal Program Offers Year-Round Collection for Controlled Substances – July 28, 2011
July 28, 2011
Contact: Chris Gaal
Office of the Monroe County Prosecuting Attorney
(812) 349-2670
Bloomington, Indiana – Have you looked in your medicine cabinet lately? Chances are, like most people, you have a box full of left-over pills. Some of them may even be controlled substances. Do you really need these hanging around? Are you worried about them finding their way into the wrong hands? How do you get rid of them safely?
According to a 2011 report issued by President Obama's Office of National Drug Control Policy, "Prescription drug abuse is a significant public health and public safety issue, and a large source of the problem is a direct result of what is in Americans' medicine cabinets. Providing individuals with a secure and convenient way to dispose of medications will help prevent diversion and abuse, and help to reduce the introduction of drugs into the environment."
Now local residents will have a year-round easily-accessible safe disposal alternative for pharmaceutical drugs – that includes controlled substances.
The Monroe County Pharmaceutical Safe Disposal Program's mission is to collect and properly dispose of unused, unwanted or expired pharmaceutical drugs and controlled substances in order to reduce the risk of illegal diversion, drug abuse, overdose, and environmental risks resulting from improper disposal.
The Prosecutor's Office, Sheriff's Department, Solid Waste Management District, and TRIAD (a senior-advocate organization) have teamed up in a partnership to make this new resource available.
"We believe this will have significant public safety, health, and environmental benefits for our community," said Monroe County Prosecutor Chris Gaal, who organized the initiative.
Gaal came up with the idea of using secure metal collection boxes that will remain the property of the Sheriff's Department, and to which only a Sheriff's Deputy will have access. Law enforcement control of the boxes will allow the program to maintain permanent collection sites that can take all types of pharmaceuticals – including controlled substances. Previous collection programs, such as the "Medical Roundup," were limited to specific days because they required the actual physical presence of a law enforcement officer in order to collect controlled substances. Because of limited resources, the roundup could only occur four times a year.
"In our experience, controlled substance addiction and abuse is often associated with property crimes such as theft and residential entry, and is also frequently the motive behind other serious crimes of violence," says Sheriff Jim Kennedy. "Encouraging people to remove unused prescription drugs from the home helps reduce both the opportunity and the incentive for the commission of such crimes, and is a useful community crime prevention measure."
According to the President's report, "Prescription drug abuse is the Nation's fastest-growing drug problem," and specifically cites the fact that "Opiate overdoses, once almost always due to heroine use, are now increasingly due to abuse of prescription painkillers."
"Prescription drug abuse and overdoses are a real problem right here in our own community," agrees Dr. Owen Slaughter, Director of Emergency Services at IU Health Bloomington Hospital. "Anything we can do to reduce the risk is welcome."
In 2008, Bloomington Hospital data indicated 292 emergency department visits coded as "drug abuse/overdose" for either illegal or prescription drugs. Of these visits, 24% were under the age of 17, and another 24% were between the ages of 18 and 25.
The President's report cites data from the National Survey on Drug Use and Health showing that "…nearly 70% of people who abused prescription pain relievers got them from friends or relatives, while approximately 5 percent got them from a drug dealer or from the Internet." Other surveys show that abuse of prescription medications has risen despite decreased illegal drug use.
The President's plan (Responding To America's Prescription Drug Abuse Crisis) calls for "…the development of consumer-friendly and environmentally-responsible prescription drug disposal programs" to "limit the diversion of drugs, as most non-medical users appear to be getting the drugs from family or friends."
"We intend to answer the President's call with a new local program that will provide a useful service to our community, and could also become a model for other communities looking for a better approach to this problem," said Georgia Schaich, a member of TRIAD and the City's Commission on the Status of Aging.
Gaal secured funding to purchase the collection boxes from the Illinois-Indiana Sea Grant Foundation, an environmental organization that seeks to reduce water contamination from improperly disposed pharmaceuticals. The program is also supported by local environmental advocates including the City's Environmental Commission, and the Environmental Resources Advisory Council.
"This is just as much an environmental issue, as one of health and safety," points out City Utilities Deputy Director John Langley. "If people flush pills down the toilet or throw them in the trash, it will likely wind up in our lakes and streams, or leaching out of a landfill." According to Langley, municipal sewage treatment systems, including those in Monroe County, are simply not equipped for the removal of pharmaceutical drugs.
"Our experience with recycling shows that in order for a program like this to work, it has to be easy for consumers to access," adds Scott Morgan, Operations Director for the Monroe County Solid Waste Management District.
The program will offer two pilot locations for the collection boxes – IU Health Bloomington Hospital in the main lobby at the Outpatient Pharmacy, and the Hazardous Materials Facility at the Solid Waste District's Recycling Center on South Walnut. Both indoor locations will be under video surveillance to ensure added security for consumers dropping off medications. If the pilot project goes well, the program hopes to add additional collection sites.
Consumers will be instructed to dispose of pharmaceuticals in the bottle or packaging with original label so that drugs can be identified to ensure proper disposal. Strict privacy of personal information will be maintained. The program will not take needles/syringes, mercury thermometers, or inhalers. These items may be disposed of at the Monroe County Solid Waste Management District Hazardous Materials Facility at 3400 South Walnut St. The program is intended for pharmaceuticals from consumers only, and not for commercial use.
For more information visit the website of the prosecutor's office at www.monroeprosecutor.us and follow the link to the Monroe County Pharmaceutical Safe Disposal Program, or call 349-DRUG.